K-pop fans say that the life of fangirls and fanboys are super fun but at the same time challenging. The first half is quite obvious because such an interest is stress-relieving, exciting, entertaining and fulfilling in manifold ways that only fans exactly know. Meanwhile, the second half covers a broad topic. It's challenging in various ways, such as the experiences of a multistan, a fan of underrated K-pop artists, a follower of a very active K-pop group with many members, a broke fan, an emotional fan, an international fan, or a collector of K-pop photocards. 
These are just some angles, but there are many more reasons why it's also not an easy quest to be a K-pop fan. Nonetheless, these things are normal, and they don't actually stop fans from being fans. If you're one of them, you can relate for sure.
Going back to the last type of fan mentioned in the first paragraph of this piece, you see 'collector of K-pop photocards'. While this is really challenging, it's not like something that suddenly happens or comes without notice. Truth be told, it's a choice – a voluntary choice to be exact because you can't be called a collector if you don't buy and collect them. Basically, these people collect K-pop photocards, those cards with selfies of K-pop idols. 
If you're already a photocard collector, you are fully aware of what's in this list, but if you're not, you're bound to learning new stuff! For K-pop fans who are just curious and for fans who are planning to join the club or who are newbie collectors, here are 7 sure ways to acquire K-pop photocards if you want to be a photocard collector. 
1 –  Buy K-Pop Albums.
The first, standard and main way to get K-pop photocards is to buy K-pop albums. Inside every album are various inclusions exclusive to the specific comeback or era that the album is produced. The inclusions vary per comeback, per artist, per celebrity management company. Nonetheless, they all contain one or more K-pop photocards. 
Placed inside each K-pop album is a piece or a set of random photocards. You have to buy sealed albums to be sure that you get them. When you order the album of a K-pop group, you may obtain any of the group members. You wish to get your bias of course, but that doesn't always happen. This is the thrilling and exciting part for fans to guess and know whose selfie they pulled from their purchased album. 
In some celebrity management companies, their artists' albums contain just one member photocard, while in some, theirs have at least three. Frequently, the quantity also depends on the number of group members. For some, the more members, the more photocard inclusions. 
2 – Get K-Pop Photocards as Pre-Order Benefits.
K-pop photocards are considered a precious gem by collectors. Especially the rare photocards or those that can be gotten through special terms only, they are sought after by avid collectors. 
Pre-order benefit is one of those special terms. You can get K-pop photocards as pre-order benefits from official K-pop stores. How does it exactly happen? 
Primarily, when a K-pop group releases their album, it's the celebrity company management that produces everything from start to finish, including the pre-ordering and the selling. That means fans will buy directly from the agency. When fans pre-order the album (meaning they order it before official release), they get benefits that those who order after the day of release or after a specific designated period are not entitled to. One of those pre-order tokens are K-pop photocards.
Moreover, it's not only the celebrity management company that sells the albums. They also authorize certified album stores or malls in South Korea to market them. These shops have another set or version of pre-order benefits specially available from them. While some are posters, most of them are exclusive K-pop photocards. 
Take note that albums with pre-order benefits are more high-priced than those without them. 
3 – Some Lightsticks Have K-Pop Photocards as Inclusions.
This doesn't always happen as it depends on the artists' celebrity management company. Some lightsticks have K-pop photocards as inclusions too when you buy them. Again, you get a random member because the photocard is placed inside the lightstick box. 
4 – Buy Season's Greetings and Photobooks.
Aside from albums released every comeback, K-pop idols have Season's Greetings and photobooks. 
The first one is the set of goods that idols shoot for and release for the new year. It's done differently every year, of course. Season's Greetings generally contain calendars, planners, posters, messages of artists for the new year, and the dearest K-pop photocards. 
The latter is basically a book with conceptual photos of the artists. Besides the sole photobook, merchandise is manufactured too, including K-pop photocards. 
5 – Buy them Per Piece from Unofficial Sellers.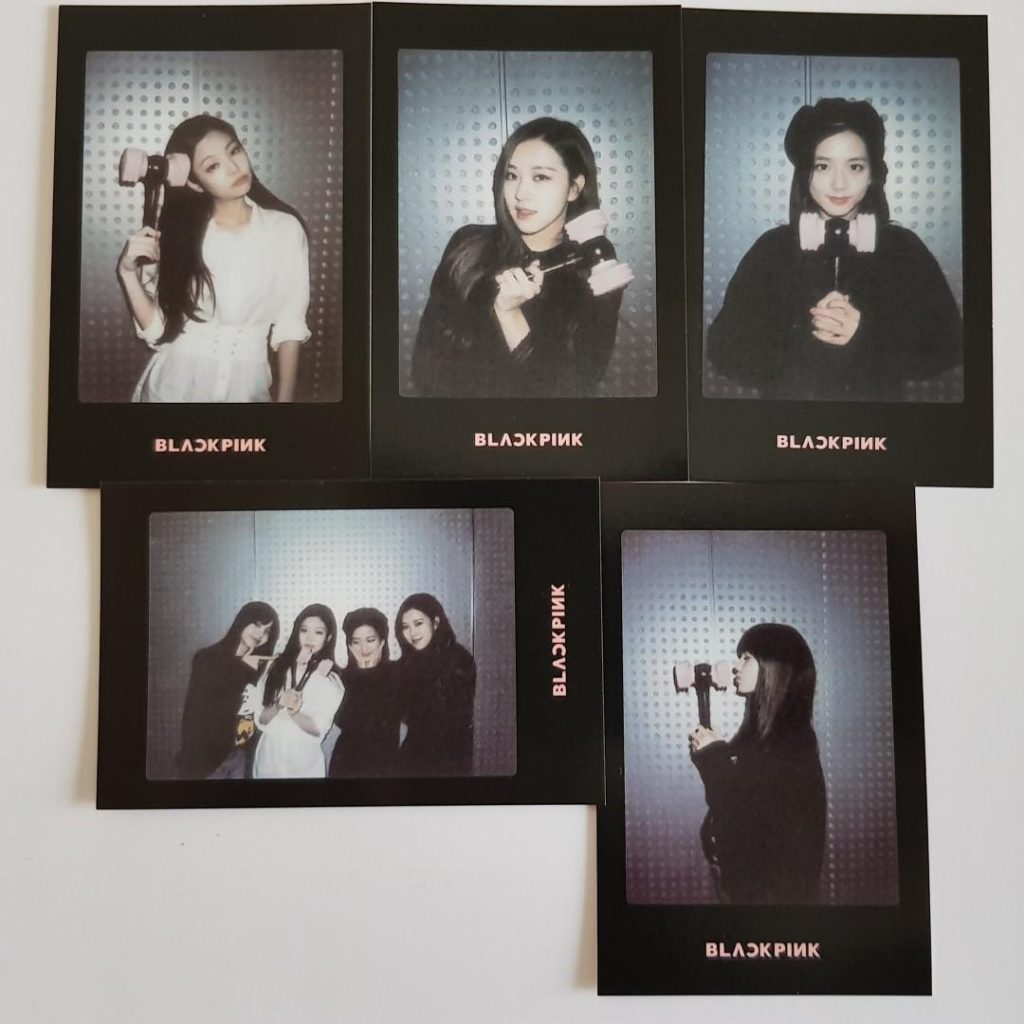 If you're singularly a collector and don't really want to keep albums and other purchases aside from K-pop photocards, buy them per piece from unofficial sellers. 
There are online K-pop stores found on social media; they are owned by K-pop fans but are not accredited and not associated with the celebrity management company and other official stores in any way except as bulk buyers. They are usually the ones that handle local group orders in countries to distribute and reduce the costly international shipping fees.
Some of them sell unsealed albums, sell retail items (or per piece) and/or are supplied with retail items from the albums and other official releases of artists. The typical setup is from the unsealed albums, they take out the inclusions to sell them individually, since many collectors are looking for card pooling to get their desired K-pop photocards. Meanwhile, some don't directly do this; instead, they already receive the actual photocards from their album suppliers.   
6 – Seek K-Pop Photocard Search Assistance.
There are kind stores that offer search assistance to fans who are looking for specific K-pop photocards but don't know how to find them. Let them know what you want, and they will do their best to give it to you! 
Be ready to pay well because they're doing the hard task that you're supposed to do!
7 – Trade with Fellow Collectors.
The community of K-pop photocard collectors is huge and vast. If you're collecting only your bias' photocards but don't always get them, you may trade with fellow collectors. It could be a tough pursuit, but pretty sure, there's at least one collector out there who has your desired photocard and wants yours at the same time! 
Carefully contact and transact with them, so you both get the K-pop photocards you want!
_____________
A COLLECTION IS COMING!
There you have them! The points above are the major and most likely the only ways you can acquire K-pop photocards if you want to become a collector or if you are already a collector who's working on your collection. 
Just a gentle reminder that before stepping into this quest of collecting K-pop photocards, know that it really isn't easy, especially if you include rare photocards on your list. 
If you collect for one group member only, it's difficult because unless you do card pooling when buying albums and other releases, you will get random photocards. That means your option is to trade them. Meanwhile, if you collect for more than one or for all group members, it's probably way easier than the latter, but it's automatically more expensive.
Furthermore, if you plan to be a collector, make sure that you can take care of those K-pop photocards – first, because you don't want them to create a mess at home, and second, because they are so pricey individually. Be a responsible collector. Be a responsible fan. 
Yet if you just remain curious and don't collect them, no problem! That's totally fine. After all, it's an individual choice, and it's not a requirement to be called a true K-pop fan.
_____________
ABOUT THE AUTHOR:
Nicole Ann Pore is a writer, an events host and a voice over artist. Quality and well-researched writing is her worthwhile avenue to enlighten and delight others about things that matter. She is a daytime writer for The Fordham Company, one of Australia's leading celebrity talent management agencies located in Sydney. Nicole graduated Cum Laude from De La Salle University Manila, Philippines with a Bachelor's Degree in Communication Arts.