Uttarakhand is that hill state which has always been very popular for tourists to visit. Every year lakhs of tourists from all over the country and abroad come to visit Uttarakhand. From famous temples, hill stations, trekking, pools, bugyals, valleys, rivers, waterfalls, etc., Uttarakhand has everything that draws travelers here every year. Tourism is the source of income for most of the people of Uttarakhand. A large number of famous temples open their doors every year during the Char Dham Yatra.
Tourists reach Uttarakhand. There are so many places to visit in Uttarakhand that no traveler will be able to visit every single place here in a limited time. The number of beautiful tourist attractions here usually makes travelers confused about where to go. Today we will know which can be the 10 best places to visit in Uttarakhand.
1. Chopta and Tungnath Temple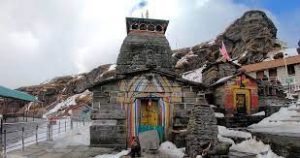 (i) Tungnath Temple
We have put Chopta and Tungnath in one option here, although the trek from Chopta to Tungnath is about 4 km. Chopta is a famous tourist place in Rudraprayag district that travelers visit for holidays in every season of the year. During the winter season, heavy snowfall is common here.
(ii) Chopta
Tungnath Temple, one of the most famous Panchkedar temples, is located approximately 3,680 meters above sea level. The trek is difficult despite being only 4 km long. Hotels in Chopta

2. Kedarnath Temple
Among the 10 best places to visit in Uttarakhand, the famous Kedarnath Temple is the first place you must visit once. The Shiva temple is located in Rudraprayag district at an altitude of 3,584 meters. Kedarnath Temple is a mixed tourist destination of faith and adventure. To reach Kedarnath, first, you have to reach Sonprayag-Gauri Kund by motorway. It takes about 16 km to reach Kedarnath temple from Gaurikund. The best time to visit Kedarnath is from May to November during the period when the doors are open. Due to being at such a high altitude, the weather here remains quite cold. Travelers coming from Delhi can complete the Kedarnath temple tour in about 3-4 days off. Along with this, there is other three dhams Badrinath, Gangotri, and Yamunotri temple.
3. Mussoorie, Dehradun
Mussoorie is the most popular place to visit in Uttarakhand. The motorway distance from the state capital Dehradun to Mussoorie is about 40 kilometers. Mussoorie is a hill station situated at an altitude of about 2005 meters above sea level, which is visited by travelers in all seasons throughout the year. There are many beautiful places to visit around Mussoorie. The weather here and the beautiful places around here are quite popular among tourists. In winter, the view of the winter line over the city of Dehradun is also seen from here, which is seen here after Switzerland in the world. Along with this, snowfall can also be enjoyed here in winter.
4. Nainital
Nainital is a place in Uttarakhand which is situated around a beautiful lake at an altitude of about 2,084 meters. This is also a hill station where lakhs of travelers reach every year. Tourists can also enjoy voting in Nainital Lake. The weather here is generally cool and snowfall can also be enjoyed in Nainital in winters. There are many places and pools around Nainital where you can roam. Some well-known pools like Bhimtal, Naukuchia Tal, and Saat Tal can also be visited.
5. Harsil, Uttarkashi
Harsil is situated on the banks of the holy river Bhagirathi of Uttarakhand, situated at an altitude of 2,745 meters above sea level. Surrounded by high peaks on all sides, this place remains buzzed with tourists throughout the year. Harsil place is also the base camp of the Indian Army. The famous Gangotri temple is situated at a distance of about 20 km from here. There are many beautiful places around Harsil like Gartang Gali, Nelang Valley, Kyarakoti Trek, Gangotri Temple, Gomukh Trek, etc. In winter there is heavy snowfall due to which even the local people are unable to stay here in winter.
6. Kausani, Bageshwar
Another famous hill station of Uttarakhand is Kausani which is located in the Bageshwar district at an altitude of about 1,890 meters above sea level. Mahatma Gandhi also told about the beauty of this place. The view of the Himalayan peaks from Kausani is amazing. The 300 km wide peaks of Trishul, Panchchuli, and Nanda Devi of the Himalayas are worth seeing from Kausani. The best time to reach Kausani is during the summer season. There are also other tourist places around Kausani like Rudradhari Water Fall and Cave, Baijnath Temple, and Anashakti Ashram.

7. Valley of Flowers, Chamoli
It is an obvious thing to keep Chamoli, the Valley of Flowers, among the best places to visit in Uttarakhand. To reach the Valley of Flowers, one has to reach Govindghat, Joshimath. Where this trek has to be completed within 3 days after obtaining a permit from the Gangaria place, 3 km away. More than 500 species of flowers bloom in the Valley of Flowers which makes for a very beautiful sight. Tourists may please note that there are also many poisonous flowers that bloom here, which need to be taken care of.
8. Auli
Located in the Chamoli district of Uttarakhand, Auli is a Bugyal which is situated at an altitude of 2,909 meters above sea level. Snow-capped peaks, bugyal, cedar-smelling valley, and coolness are the main attractions here. Along with this, Auli is quite famous for skiing. The Garhwal Mandal Vikas Nigam also provides skiing training here. Apart from this, the artificial lake here is one of the highest lakes in the world.
9. Kedarkantha, Uttarkashi
One of the best snow treks in India, the Kedarkantha trek is located in the Uttarkashi district of Uttarakhand. The trek to Kedarkantha peak at a height of about 4,100 meters is full of adventure. Starting from Sankri village base camp, this trek is about 12 km and takes 8-10 hours to complete. The trek is completed the next day by stopping at the base camp in between when the snow is high. The Dehradun road distance of Sankri is about 200 km.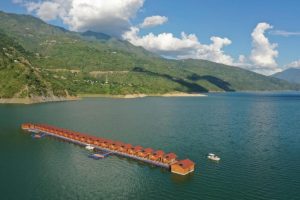 10 .Tehri Lake
Tehri Lake is the stagnant water lake of Tehri Dam, one of the largest dams in Uttarakhand. Tehri Dam was once the tallest dam in the country. This Dam is built at the confluence of the Bhagirathi and Bhilangana rivers. For some time now, the Uttarakhand government has arranged adventure sports on the lake to entertain tourists. About 260 meters high and 592 meters long, this lake is spread over 42 square kilometers.
We have given you our opinion about the 10 best places to visit in Uttarakhand. However, mentioning only 10 places will not be justified with the tourist places of Uttarakhand because there are hundreds of places to visit in Uttarakhand. All the places are one-to-one which might not be fair to rank. It is also impossible to tell all the places at once. But the places mentioned above are places that everyone must visit once.